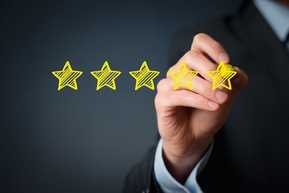 Best of the best!
By Eric Asman on 11/17/2016
(Published on RateABiz)
I am a loan officer and Stephanie has closed many loans for me over the years. She is accurate, consistent, and extremely knowledgeable. Most importantly, many clients reach out to me after the closing to let me know how helpful she was and what a pleasure it was to work with her.
By Randy Sullivan on 11/02/2016
(Published on RateABiz)
I had the pleasure of working with ATTY Stephanie Caponigro as my closing attorney for the sale of my home. She was on task from the moment the closing started to the very end. There were no suprises and she kept in communication with me the entire time. During the closing, she clearly explained each document and I truly knew my interests were well protected. ATTY Stephanie Caponigro is competent, well informed, and a true professional and I would recommend her with full confidence.
Very friendly and professional title attorney
By Fabian B on 08/31/2016
(Published on RateABiz)
It was really a pleasure to have Stephanie as my closing attorney. It is already stressful to move and go through the transaction process of purchasing a property but working with Stephanie was a bright spot. She was a pleasure to work with, and very personable and efficient with the work. The closing was very smooth and quick. I would highly recommend her for any real estate transaction.
Closing Attorney
By Sean McInnis on 08/08/2016
(Published on RateABiz)
We recently closed on our sale of our home and the purchase of our home. We had multiple issues that arose during the process and our attorney, Stephanie, went above and beyond to make sure that we as the consumers we relaxed and that any issues presented by the buyer/sellers were addressed immediately and with the highest level of professionalism. I would recommend Attorney Caponigro 100%
We are lucky to have Stephanie on our side!
By Sarah McKinnon on 06/23/2016
(Published on RateABiz)
As first time home buyers, we had no idea what to expect or what to do during the negotiation, P&S and closing process. What does all of that intricate language in those documents mean anyways? Well, Stephanie Caponigro knew exactly what she was doing, guided us along the way, made requests (and thought of things we didn't even think about!) to make sure we were engaging in a safe, confident transaction. Buying a condo can be even more tricky, and Stephanie knew it all. We couldn't have been more thrilled with Stephanie's work and look forward to the opportunity to work with her again!
High Level of Expertise and Professional Service
By Daniel Dineen on 06/20/2016
(Published on RateABiz)
Stephanie is one of the best attorneys I know in the industry. Knowledgable and professional, she always makes sure the job gets done from start to finish. I couldn't recommend anyone better!